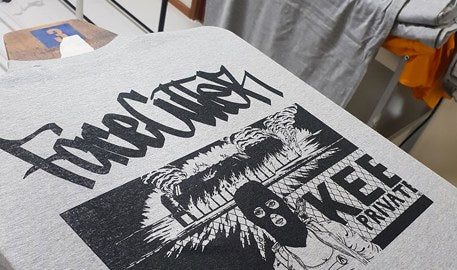 Screenprinting & Design Services
In addition to running a retail shopfront, Sancho's Dirty Laundry also offers a custom screen-printing & design service onto tees. We have contacts with a bunch of designers/artists who can produce a unique piece in a given time frame. All tees are screen-printed by hand & in-house using high quality water-based inks that are certified eco friendly and soil association approved (100% solvent free and low impact on the environment 🌱).

We are more than happy to source blanks for you from our ethical supply chain, or feel free to use your own. There are no minimum quantities for orders. If you're a small business, designer, artist, band, label, etc etc and need some merch/uniforms, hit us up! If it's something outside our realm, we can also point you in the right direction!